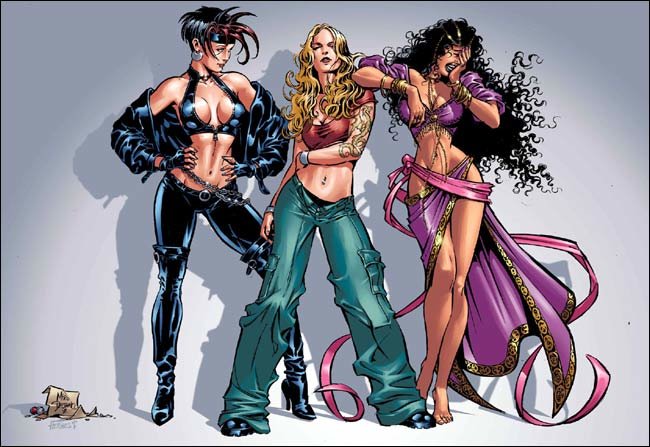 English
Exclusive: Mike Deodato talks about Witches
Brazilian artist Mike Deodato tells Universo HQ about Witches, his new work for Marvel
The Brazilian artist Mike Deodato is involved in a new project for Marvel Comics. It's a new regular book called Witches, written by Browyn Carlton and edited by Lysa Hawkins. Deodato is the regular penciler of the series that will feature the characters Satana, Jennifer Kale and Topaz.
"They are like Charlie's Angels", Deodato said in an exclusive talk with Universo HQ. "The plot is about a mystic book called Tome of Zhered-na. It can only be opened by a person powerful enough to deserve the power of the book. That person ends up being the brother of Jennifer, but opening the book will free the demon Hellphyr. So, Dr. Stranger summons the three heroines to stop the demon".
All the three characters will have a new look, more modern, designed by Deodato himself. Besides, they will pretend to have about 16/18 years. Topaz has the capacity to change her age, she was inspired by Deodato's wife. Satana, will be similar to actress Thora Birch, while Jennifer will remind Mena Suvari (both of the film American Beauty). "I like to do use those references to give more personality to the characters", he explains.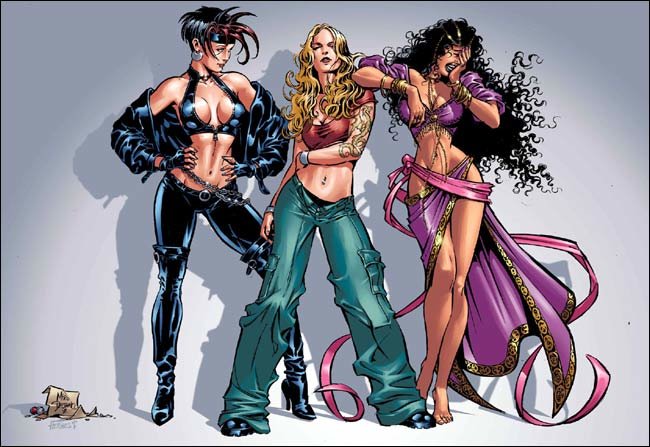 The invitation for Mike Deodato to draw it came up through the editor of the Witches, Lysa Hawkins. "I drew a tale for X-Men Unlimited's ex-editor, Jason Liebig. It is an adventure of Nightcrawler that will be published in #32 (July). He loves it, and he almost gave me a X-Men title, but it didn't happened. I start to have contact with Lysa, his former assistant, and she offered me a plot of a tale about Storm. The time passed, and it didn't arrive, so Lysa talked to me about Witches".
"At that time, she sent me the plot of the series, and said that an European artist was being considered to drawn it, but if I made a good work, I would draw the magazine. So I made several sketches and sent to her. She loved it, and as soon as Joe Quesada saw the sketches, he loved it also". At the moment, Deodato did half of the first issue. "I already made a small story of 8 pages, that should be released before the regular series, as promotional material, and two covers are already done".
He is very excited with the project. "I think going to be a success. It is something very different than what Marvel is doing, both in the narrative and the art. The dialogues are very good. The art will be totally different, only pencils, without inking. I will be showing a new styl>, and I am spending one and a half day in each page. I never spent so much time like this", he revealed.
"The other reason for my enthusiasm is that I'm working with Marvel again and I can show my work. It is a new book, a very good project. I am having the support of Quesada and all of them. I have reason to believe that we will have a great marketing work about the title". He also speaks about his relationship with the creative team. "I never talked directly with Browyn, but I speak practically everyday with Lysa. She is very kind, very interested, and she is always motivating me. We have very good work relation. She surely is one of the best people I ever worked with".
Another fact that will attract attention is that the book probably won't have the Comics Code on the cover. I don't know the reason, but I find it great. I like to work with freedom", Deodato explains.
The new monthly series is also a new beginning for Mike Deodato's professional life. "I'm not with studio Art & Comics any more. Now I'm working directly with Dave Campiti, but I choose the projects that I want to do. That means I can be dedicate myself on the Witches project. I refused some other things, for example, the edition of the Aquaman written by Stan Lee (for the project Just Imagine Stan Lee Creating DC Universe). Now, I want take all my time with Witches".
His other work to be released soon, will be the second issue of Chyna, by Chaos! Comics.
Witches won't come out with the Marvel Knights label, but as a conventional Marvel Universe title. Witches going to be release on October.